Mathematics - Common Core Standards
Operations and Algebraic Thinking for Grade 2
Represent and solve problems involving addition and subtraction.
Addition Word Problems
Subtraction Word Problems
Add and Subtract within 20
Work with equal groups of objects to gain foundations for multiplication
The Common Core State Standards are © Copyright 2010. National Governors Association Center for Best Practices and Council of Chief State School Officers. All rights reserved. For more information about the Common Core State Standards, visit their website at http://www.corestandards.org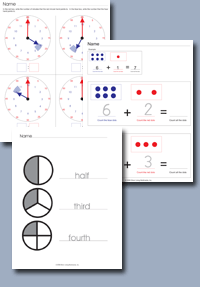 Click on any of the standards on the left to create custom worksheets or to print premade materials.
The Common Core State Standards are © Copyright 2010. National Governors Association Center for Best Practices and Council of Chief State School Officers. All rights reserved. For more information about the Common Core State Standards, visit their website at http://www.corestandards.org