Mathematics - Common Core Standards
Operations and Algebraic Thinking for Kindergarten
Understand addition as putting together and adding to, and understand subtraction as taking apart and taking from.
K.OA.1. Represent addition and subtraction with objects, fingers, mental images, drawings1, sounds (e.g., claps), acting out situations, verbal explanations, expressions, or equations.
Addition
Subtraction
K.OA.2. Solve addition and subtraction word problems, and add and subtract within 10, e.g., by using objects or drawings to represent the problem.
K.OA.3. Decompose numbers less than or equal to 10 into pairs in more than one way, e.g., by using objects or drawings, and record each decomposition by a drawing or equation (e.g., 5 = 2 + 3 and 5 = 4 + 1).
K.OA.4. For any number from 1 to 9, find the number that makes 10 when added to the given number, e.g., by using objects or drawings, and record the answer with a drawing or equation.
K.OA.5. Fluently add and subtract within 5.
| | | | |
| --- | --- | --- | --- |
| | Math Families | | |
| | Use this math generator to create simple addition worksheets. | | |
The Common Core State Standards are © Copyright 2010. National Governors Association Center for Best Practices and Council of Chief State School Officers. All rights reserved. For more information about the Common Core State Standards, visit their website at http://www.corestandards.org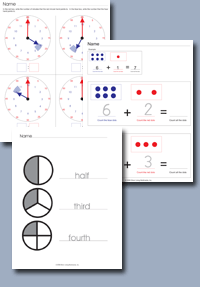 Click on any of the standards on the left to create custom worksheets or to print premade materials.
The Common Core State Standards are © Copyright 2010. National Governors Association Center for Best Practices and Council of Chief State School Officers. All rights reserved. For more information about the Common Core State Standards, visit their website at http://www.corestandards.org